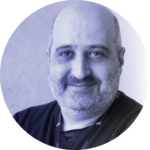 Júlio Borlido
Communication Unit Coordinator, i3S, Portugal
October 19 | 2.30 p.m. (GMT+1) / 8.30 a.m. (CDT) | Duration: approx. 2 h 
Virtual | Limited Attendance
Moderation:
Catarina Carvalho, Head of Communications – UT Austin Portugal
Target Audience: Scientists, Researchers, Project coordinators/managers, Science communication professionals.
Science communication has evolved to an inclusive process that requires the participation of society in scientific development to reduce the knowledge gap among citizens and to boost knowledge transfer. Some new trends are emerging like citizen science, knowledge coproduction, grass-roots activities, community science centers, amongst others.
In this workshop, we will review some of these new approaches and dynamics to try to understand why some of those practices are more effective in the engagement of science with its publics.
Some questions that will be explored during the workshop are:
Do publics actively appropriate the resources provided by science and do this to allow them to build more active citizenship?
Do the engagement of scientists and scientific institutions with publics on a collaborative basis help to address Science and Technology-based concerns?
This workshop aims to create the conditions for Scientists to understand the plurality and diversity of publics, whom they are expected to engage with, as well as to develop the skills required for a constructive interaction for dealing with publicly relevant issues.
Since this workshop is expected to combine a presentation with hands-on exercises, the number of attendees will be limited.